Apply for products and services
Apply for an Alaska USA Visa® Credit Card
Reward yourself with an Alaska USA Visa Credit Card that combines a low, fixed rate with reward points redeemable for merchandise and travel.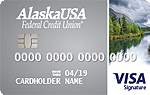 Transfer balances from other credit cards with just one phone call.
Consider adding payment protection.
Not the right card for you? Establish and rebuild credit with the Secured Visa Platinum Credit Card while taking advantage of convenient worldwide spending power and rewards.