Visa Debit & ATM Cards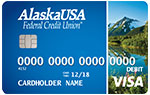 Alaska USA's Visa® Debit and ATM cards are the perfect way to enjoy quick access to your accounts and the convenience of immediate purchasing power without checks. Both cards provide account access at designated ATMs around the world, and on-the-spot purchasing power at participating merchants. And with a Visa Debit Card or ATM card from Alaska USA, you pay no annual fee and no monthly fees.
With either card, you can:
Access your account at any of the 55,000 surcharge-free Alaska USA or Allpoint ATMs worldwide. You can use any ATM displaying the Visa/PLUS® logo (transaction fees may apply).
Withdraw cash, transfer funds (within the same account number), and check balances. You can also make deposits at many locations.
Eliminate the need to carry cash or checks by using your card to purchase goods and services at participating merchants-in most cases you can even get cash back.
Simplify your record keeping - you receive a receipt each time you use your card and all transactions are recorded on your monthly statement.
Save money with fewer check reorders.
The Visa Debit Card gives you even more:
Worldwide purchasing power at most places Visa is accepted, with just a swipe or a signature. Transactions are quick and simple, and there's no need to carry Travelers Cheques checks when you're away from home.
The security of knowing that the Visa Debit Card limits your liability for unauthorized purchases.
Use a Visa Debit Card instead of cash at most places you see the Visa logo and avoid paying surcharge fees imposed by another financial institution's ATMs.
Easily lock and unlock your debit card online or using the Alaska USA app to prevent unauthorized purchases
Apply for a card
---
Find out more
The right card for you
You can receive your Visa Debit Card at a branch right away with instant issue.
ATM Cards will arrive in the mail in 10-12 days.
Alaska USA never surcharges for ATM transactions when you use your Alaska USA card. Cardholders may be assessed a fee for transactions made at ATMs owned by other financial institutions.